Edgewater food hall signs up 12 tenants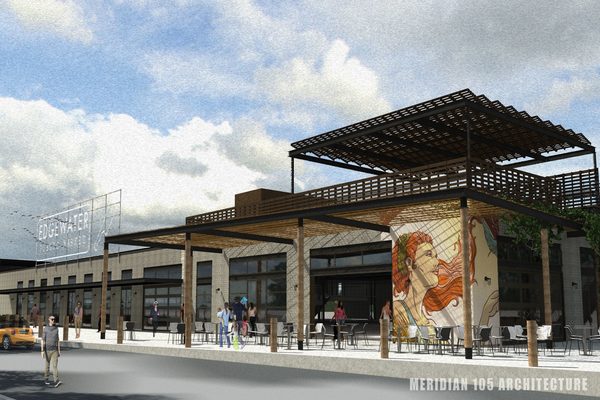 The food hall coming to Edgewater has filled up.
Twelve eateries have leased space in the food hall slated to open this fall in Edgewater Public Market, according to David Hicks & Lampert broker Ken Himel, who is leasing the space along with the colleague Shawn Peel.
A number of them, including Vegan Van and Arepas House, are local food trucks that are opening their first stationary locations.
Edgewater Public Market, a project by Denver-based LCP Development, involves the redevelopment of a 6.7-acre site at 20th Avenue and Depew Street in the city just west of Sloan's Lake. The site includes a retail strip, a small freestanding building and a former King Soopers (other eateries likely will open with the project, but outside the food hall).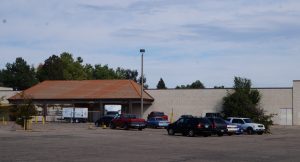 Here's a rundown of the food hall tenants:
+ Amethyst Coffee, a Denver-based coffee shop with locations on Broadway and in the Berkeley neighborhood. The shop also sells cocktails, teas, Mexican horchatas and pastries from Rebel Bread, according to 303 Magazine.
+ Arepas House, a food truck that makes Venezuelan arepas. An arepa is made by forming bread dough (made with white cornmeal, water and salt) into a patty, grilling it, baking it, splitting it open and stuffing it with ingredients like a sandwich, according to the company's website. Arepas House offers nine kind of arepas and a patacon — a sandwich made with two slices of fried plantain.
+ Barbed Wire Reef, a wild game and seafood concept that's been a part of the food truck scene since 2011, and opened its first brick-and-mortar last month in Berkeley. The restaurant offers bratwursts and burgers made of exotic meat, including wild boar, kangaroo and camel.
+ Carnivore, a spinoff of Barbed Wire Reef, but in taco form. Rico Aragon owns both concepts, and said Carnivore will offer the same exotic meat options but with a Latin twist. Aragon said the new restaurant is meant to bring his Mexican heritage into his business.
+ Gyros King, offering Greek and Cyprus-style street food. In addition to falafels and gyros, the food truck sells a souvlaki and chocolate baklava.
+ Happy Cones, a food truck that makes New Zealand-style ice cream made with real fruit. A Happy Cones customer chooses a fruit, which then is blended with sweet cream ice cream right in front of them, according to the shop's website. Happy Cones also offers scoop ice cream in flavors such as orange chocolate chip and salted caramel, as well as vegan coconut milk gelato.
+ Lucky Bird, a mobile fried chicken concept. The food truck sells a variety of chicken-centric meals, as well as sweet potato fries and coleslaw.
+ Mac Shack, which sells "tasty dishes based on mac and cheese," according to its website. The food truck offers mac and cheese made with two cheese options and five possible meats, as well as burgers, sandwiches, wraps and curly fries.
+ Monna Pizza, an Italian pizza concept by Danilo Gallinari — a former Denver Nugget now with the Los Angeles Clippers, and who previously opened Italian restaurant Pagani Restaurant in New York — and Mario Petit, the former chef at DIA's The Smokin' Bear, according to his LinkedIn profile.
+ Moontime Crepes, a mobile creperie that's had a Denver presence since 2016. This will be the first brick-and-mortar location for Moontime Crepes, which lists 35 sweet, savory and brunch-style crepe options on its website.
+ Slideshow, formerly known as Eighty Ate food truck, which specializes in sandwich sliders. Its website shows 14 sliders on its menu, including Southern caprese, curry cauliflower and lobster. The food truck opened in 2013.
+ Vegan Van, which offers plant-based street fare from a food truck. Its website lists 17 rotating menu items, including tofu tacos and a seitan ("wheat-meat") bratwurst.
Separate from the food hall will be Roger's Bar, located on the rooftop of the former grocery store.
Also inside the onetime King Soopers, but outside the food hall, will be two shops that also have a presence in Stanley Marketplace: Zero Market, a zero-waste marketplace, and Velvet Wolf, a women's clothing brand. (Velvet Wolf, and its male counterpart Iron Wolf, are also set to open at the upcoming Broadway Market.) Other retailers include Queen City General Store and Depew Liquors, Himel said.
The development is about 59 percent leased, but Himel said negotiations are underway for an additional 20 percent. One of these negotiations is with a local brewmaster, whom Himel declined to identify.
Other food halls projected to open this year include Broadway Market and Happy Canyon Wine & Market in Denver, as well as Tributary and Golden Mill in Golden.